Find directions on Google Maps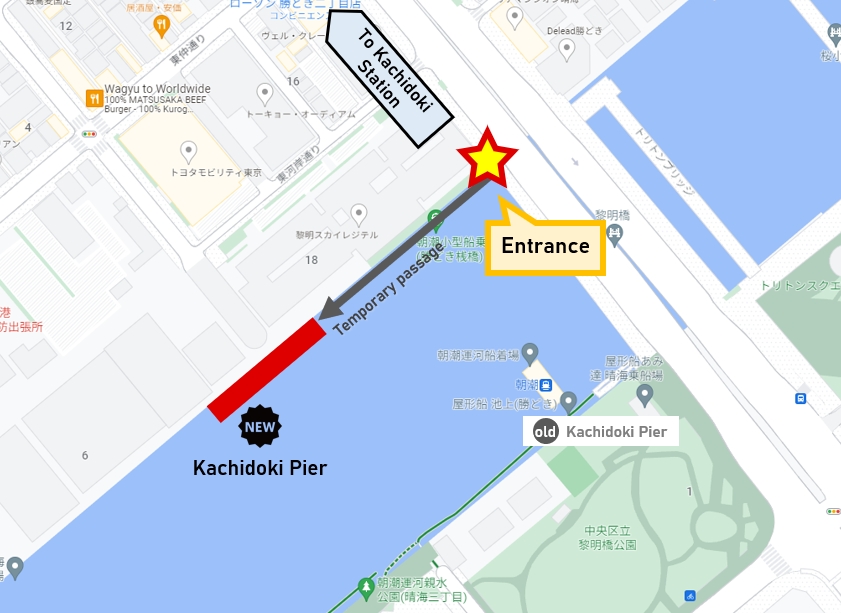 Map of Asashio Small Craft Boarding Area (Kachidoki Pier)
A temporary passageway is currently installed to the new boarding area that has moved from May 15, 2023.
Until the official completion, please enter from the temporary entrance along the Reimei Bridge.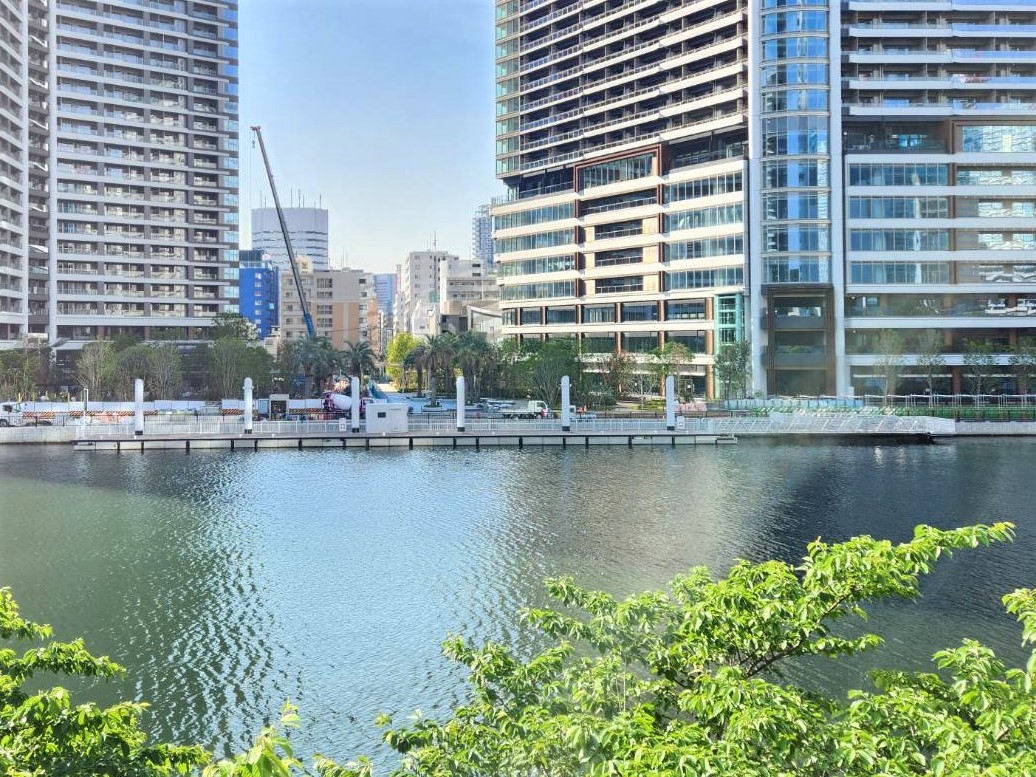 Panoramic view of Asashio Small Craft Boarding Area (Kachidoki Pier)
With easy access from central Tokyo, the Asashio Small Craft Boarding Area is the pier chosen for use by many cruise parties. It is available for use by almost any craft other than large ones.
Temporary entrance of Asashio Small Craft Boarding Area (Kachidoki Pier)
It is normally locked, but please be assured that the staff will unlock it when you make a reservation.
As of May 16, there is no signboard, but it will be installed soon.
There are steps, so we will suggest a different platform for customers using wheelchairs.
Detail of Asashio Small Craft Boarding Area (Kachidoki Pier)
Location

Near 4-6-1 Harumi, Chuo-ku, Tokyo

Access

By train

From the Shinjuku/Roppongi or Ryogoku/Kasuga direction
6 min. walk from Exit A4a of Kachidoki Station on the Toei Subway Oedo Line
*From JR lines: We recommend changing to the Oedo Line by walking from Hamamatsucho Station to Daimon Station. The walk takes about 3 mins.

From Exit A4a, take the up escalator and then take the pedestrian crossing to the right of the front of the station and proceed toward Harumi. You will see a Lawson convenience store on your right as you proceed.
There is a temporary entrance (black gate) on the right side without crossing the Reimei Bridge, so please go through the temporary passage from there to the platform.

*Note that it is not in the Kachidokibashi direction.

By car

Approx. 8 min. from Ginza and Shiodome exits on the Shuto Expressway Inner Circular Route.

Harumi Triton Parking (1-8-16 Harumi, Chuo-ku, Tokyo)
7:00-23:30, 365 days/year
¥400/60 min. (¥200/30 min. thereafter)
*Note that actual parking charges and other details may differ.

Siscon Parking Harumi (near 3-7 Harumi, Chuo-ku, Tokyo)
24 hours/day, 365 days/year
¥300/30 min. (7:00-20:00)
¥100/60 min. (20:00-7:00)
Max. per 24 hrs. ¥3,200
*Note that actual parking charges and other details may differ.

By taxi

Approx. 10 min. by taxi from JR Yurakucho Station or the Tokyo Metro Ginza staion, Tokyo Metro / Toei Subway Higashi-Ginza station

Vicinity

Temporary construction is currently underway for completion in August.

There is a "Lawson Kachidoki 2-chome" store in a 1-minute walk from the temporary entrance.

There will be no restrooms at the platform during temporary construction, so please use the public restrooms in Reimeibashi Park.

Notes

Boarding announcements

Our staff will make boarding announcements at the Asashio Small Craft Boarding Area after the boat has docked and all passengers have assembled.

Use of the pier

The pier may be very crowded depending on the day, time of day, and season. Note that cruise times may be adjusted as a result.
In addition, use of public address systems and outboard speakers is prohibited in Asashio Canal (near the pier). Please refer to the time schedule for departure times.

Pier hours

12:00-22:00
*The boat will dock at the Asashio Small Craft Boarding Area no later than 21:50, since the pier closes at 22:00. Cruises planned to dock after 21:50 will use other piers.

Pier reservations

Note that since reservations are on a first-come, first-served basis, we may not be able to accommodate your requested reservation time in some cases.

Use of public facilities in the pier vicinity

Smoking is prohibited on the pier, in Reimeibashi Park, and in the public restrooms.

Reimeibashi Park near the pier is a public facility. Please use it with moderation to avoid inconveniencing other users.
Recommended cruisers that can use this pier